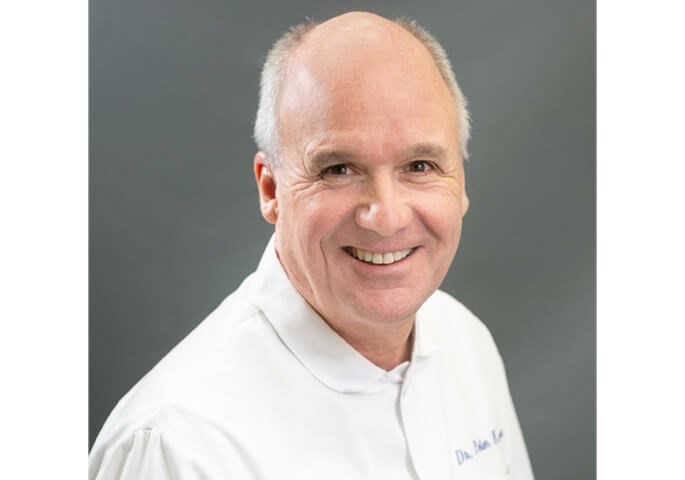 Dr. Peter Knowles is an exceptionally gifted general dentist proudly serving patients in the Avon, CT and surrounding communities. He is known for his extensive skill set and has has been recognized as a Greater Hartford Top Dentist for a number of years. Dedicated to delivering patient-centered care, Dr. Knowles always places treatment comfort and convenience as a top priority and upholds the highest standard of service.
Education and Accomplishments
After completing his undergraduate coursework, Dr. Knowles went on to earn his doctorate degree from the University of Connecticut School of Dental Medicine. He is recognized for his leadership abilities and is distinguished within the dental industry as both a Master and Fellow in the Academy of General Dentistry (MAGD, FAGD). Dr. Knowles completed and demanding program at the highly acclaimed Dawson Center for Advanced Dental Study. Sharing his expertise and knowledge, Dr. Knowles contributed to an article on dental implants in Dentistry Today.
When he is not treating the smiles of his patients, Dr. Knowles enjoys gardening at his home and playing the guitar. He resides with his wife and two children in the quaint town of Niantic, CT, where he is an active member of the community.
Reviews
"Dr. Knowles and Avon Dental Group have been great to my husband Michael and myself. They always have your best interest at heart. They are professional and caring. We have both been patients of Avon Dental Group for years and wouldn't consider going elsewhere."
M.M.
Facebook
"As the owner of an Ad Agency in Avon, Mintz + Hoke, I understand the importance providing an experience for our clients that is second to none. You only get one chance for a first impression. The Avon Dental Group and Dr. Peter Knowles knock it out of the park every time! The staff is professional, helpful, caring, friendly, knowledgeable and welcoming. Making an appointment is so easy and they have always been flexible to accommodate my crazy schedule. I will continue to recommend them to friends, family and co-workers. Actually, I think about 20 of my co-workers are already clients of their's, not to mention a number of Mintz + Hoke alumni! I'm raising 5 stars!"
R.P.
Google
"I have been seeing Dr. Peter Knowles for years. He is a compassionate & competant dentist. I respect his advice & guidance. I also love Jane, the hygienist that I've also seen for years. Between the 2 of them, my teeth are in great shape!"
L.M.
Google
"I have been coming to ADG for 12 years. They are so good that even now that I live two hours away, I still drive there for my dental care. Dr. Knowles is the best dentist I've ever had. He is officially recognized among his peers as one of the top dentists in Connecticut. My teeth need a lot of looking after and I only go to ADG for dentistry and cleaning visits. Dr. Knowles' work is of the highest quality, and he treats everyone - patients and staff - with great courtesy and kindness. He is very gentle and patient and he makes sure my comfort is addressed, and he is attentive and responsive to my concerns. John is my hygienist. Like everyone at ADG he is friendly, courteous, gentle, and professional. He knows his job backwards and forwards and he listens to his patients and always does a wonderful job. They take every possible precaution to keep the office safer in a post-Covid world. The dentists have gowns, hats, masks and face shields and everyone in the office is masked. The waiting room chairs are distant from each other and the reception has plexiglas dividers. Everyone on staff is dedicated to the needs of the patient, and they are friendly and professional across the board. Every time I go there I immediately sense the incredible teamwork in the office. I've been recommending ADG to people for years: happy to do so on Google."
P.B.
Google
"I put my trust in Dr. Knowles as my dentist and Heidi as my hygienist. I have been a patient at Avon Dental Group since 1972 and have seen the practice develop over the years. I have always received excellent dental care and would never consider going any place else."
D.B.
Facebook